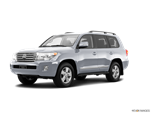 Nothing has been changed on the Land Cruiser for 2014.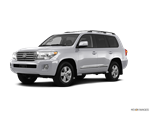 For 2013, the Land Cruiser receives a host of new interior features and a slightly refreshed exterior design. New xenon headlights with integrated LED running lights, restyled taillights and a revised front grille mark the notable exterior changes. Inside, the 2013 Land Cruiser receives a new multimedia navigation system, perforated leather-trimmed seating surfaces, a color multi-information display and numerous interior trim updates.
About Toyota Land Cruiser
For decades the Land Cruiser name has been on a continually progressing series of extremely capable Toyota vehicles, from the original Jeep-like versions to the current contender for SUV King of the Hill. It seats eight, can tow a trailer of 8,500 pounds and has almost-unbelievable capabilities off the pavement – and is also one of the most thoroughly luxurious and fully equipped SUVs on the planet. But magnificence is not to be found in the bargain basement, and the Land Cruiser's rivals now include Land Rover's Range Rover and Mercedes-Benz's GL. And, since everything is included as standard equipment, there is no "base" version. The only choices are exterior and interior colors. The Cruiser is for healthy bank accounts and strong credit ratings.