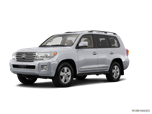 It ain't broke, so it ain't fixed: The 2015 Toyota Land Cruiser SUV rolls along with no changes.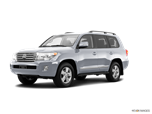 Nothing has been changed on the Land Cruiser for 2014.
About Toyota Land Cruiser
The 2015 Toyota Land Cruiser bears little resemblance to the Jeep-like military transport that debuted so many decades ago. Today, it's a luxurious transport for up to eight, a single model that, while pricey, can do just about anything you ask of it. And we do mean anything, because there is one thing today's modern, luxurious Toyota Land Cruiser shares with its ancestors: an uncanny off-road ability. Because, you see, unlike rivals like the Mercedes-Benz GL or Cadillac Escalade, this luxury SUV isn't afraid to get its shoes dirty. With a low-range transfer case, and a Multi-terrain Select system that's smart enough to know when to allow wheel slip and when to prevent it, there's little the 2015 Toyota Land Cruiser can't handle.