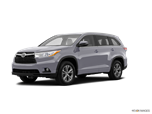 All-new for 2014, the Toyota Highlander boasts new features like Driver Easy Speak and a wonderful in-dash shelf. The base hybrid model goes away for the 2014 model year with the Hybrid Limited remaining as the only option. Exterior and interior restyling and optional seating for eight join the Highlander lineup.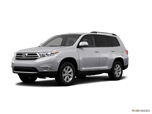 The Toyota Highlander's only change for 2013 is a rearrangement of standard equipment and trim-level packages. A new Highlander Plus package replaces what was the Tech package and adds some features, including a rearview camera.
About Toyota Highlander
Born to haul families and all of their cargo, the Toyota Highlander continues to uphold that reputation but brings a more refined feel than those before it. Competition is stiff with the likes of the Ford Explorer and Honda Pilot circling close by but the Highlander is no slouch. Toyota estimates that 90 percent of all 2014 Highlander models sold will leave the lot with a V6 engine and 60 percent of those will come equipped with all-wheel drive (AWD). We're inclined to go with that combination, too.