2014 Toyota Corolla Expert Review
By Richard Homan
KBB Expert Rating: 7.6
Toyota argues that the Toyota Corolla is all-new for 2014, but that's a mixed truth. With roomy seating for five, the front-wheel-drive 4-door looks all-new, and its interior is certainly newer and nicer than ever. But the mechanicals include the Corolla's tried-and-true 1.8-liter 4-cylinder engine and the true-but-tired twist-beam axle rear-suspension setup, both deeply refined but neither revolutionized. Competitors like the segment-leading Honda Civic, the Ford Focus and the new Mazda3 all have something tempting to lure compact-sedan buyers away from a Corolla – even an all-new one – but none of them can match the no surprises, bread-and-butter goodness of a Toyota Corolla.
You'll Like This Car If...
If you and your family have been speaking Toyota for as long as you can remember, the 2014 Corolla is the compact 4-door for you.
You May Not Like This Car If...
If you want sportiness, chase down the new Mazda3 or a Ford Focus. Need to save as much as possible? Try to scrape up a bare-bones Kia Forte (good luck on that quest).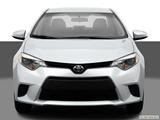 What's New for 2014
Toyota portrays the Corolla as all-new for 2014.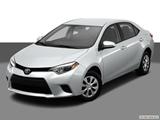 Driving Impressions The 2014 Toyota Corolla is not out for blood. It is easy to drive, and if your expectations don't exceed the price you paid for the car, it is a...
... pleasant way to spend your time – whether on a short commute or a weekend road trip. Its ride is compact-car decent, with some higher-speed road noise present though not oppressive. Both 1.8-liter engines can successfully shrug up enough power to tackle a freeway onramp and find a way around slower traffic. The CVTi-S automatic transmission serves its noble purpose – adding a few extra mpg to the Corolla's bottom line – but like many CVTs, it can rev a bit too freely, loudly at times. You should be getting this message by now: The new Corolla won't bring a twisty road to its knees, but it will get you comfortably where you gotta go without adding any fussiness, and it'll do it for a long, long time.
AN INTERIOR HOME RUN, PART I: MATERIALS
Toyota has gone back to realizing that this is where most people spend their time with a car: inside. The interior design, seating, materials and touch points are all a step up in the 2014 Corolla.

AN INTERIOR HOME RUN, PART II: TECH-READY SETUP
Even in base form, the new Corolla pays attention to audio tech desires. The car includes both an Apple-compatible USB port and an iPod interface, steering-wheel-mounted audio controls, and is hands-free Bluetooth phone ready.
2014 Toyota Corolla Details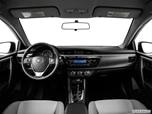 Interior
Telling the real story of the new Corolla sedan means talking about the interior. As we mentioned, this is a very nice interior – even the car's headliner material is impressive. There's plenty of stretch-out space in the front seats, and the newly extended wheelbase gives rear-seat passengers world-record legroom. Rear headroom, however, is compromised by the jaunty sweep of the Corolla's C-pillar/roofline into the trunk – good to look at, but requires ducking from tall-torsoed riders in back.
Exterior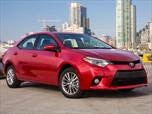 Thanks to its 2014 redo, the all-new exterior styling has allowed the Corolla to move away from an anonymity that the Federal Witness Protection Program can't duplicate to an appealing series of folded edges in search of big wheels and tires to punctuate its stance (15-inch steel wheels are standard on base models, but find a way to move up to 16- or 17-inch wheels in steel or aluminum if you can). The car looks especially good in darker colors. And while the trunk capacity is a pinch bigger than the previous-generation Corolla, the trunk opening is smaller.
Standard Equipment
Like most of the players in this class, the basic Toyota Corolla L comes pretty basic. The most notable exceptions – Nice interior! Cool, iPod connectivity. Ahh, Bluetooth hands-free calling. – have already been outlined. Don't worry, the car gets air conditioning and a decent 4-speaker audio system, plus power windows, a tilt/telescoping steering wheel, and – all the rage in luxury cars these days – LED headlights. Always thinking of you, Toyota also includes a manual height adjuster for the driver's seat. While not yet ready to tame all the forces in an offset crash test, the new Corolla does offer the protection of eight airbags.
Optional Equipment
As is the habit these days, carmakers don't offer options so much as they offer option packages and add equipment by trim level. The 2014 Toyota Corolla sedan follows this lead. Pass on the base L version and step up to the LE models to get automatic climate control, Entune 6-speaker audio with streaming Bluetooth, bigger wheels, and remote keyless entry. Reaching up to the Corolla S rewards you with a sportier environment that includes fog lights, a chrome-tipped exhaust and a rear-deck spoiler, plus bolder seats and instrument cluster. The Driver's Convenience Package nets you Entune Premium audio, navigation and apps. Stand-alone option highlights: moonroof and push-button starting.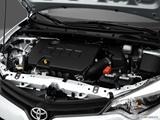 Without asking you to wade waist-deep into an engine-technology discussion, we'd like you to know that the 2014 Toyota Corolla is offered with two versions of a 1.8-liter 4-cylinder engine. The first version, used in L, LE and S Corolla models, produces 132 horsepower and 128 lb-ft of torque – not much bragging rights for power, but the fuel economy is strong for the class (see the EPA numbers below). The second 1.8-liter, in Corolla LE Eco models, gets to tout fuel economy as high as 42 mpg on the highway – superb for a non-hybrid – mated to Toyota's CVTi-S continuously variable automatic transmission. That fuel-conscious CVTi-S also hosts the power in Corolla LE and S automatic-transmission models. A 6-speed manual gearbox is available in Corolla L and S versions, while a 4-speed automatic is available in the Corolla L.

1.8-liter inline-4
132 horsepower @ 6,000 rpm
128 lb-ft of torque @ 4,400 rpm
EPA city/highway fuel economy:
Corolla L: 28/37 mpg (6-speed manual), 27/36 mpg (4-speed automatic)
Corolla LE: 29/38 mpg (CVTi-S automatic)
Corolla S: 29/37 mpg (CVTi-S automatic), 28/37 mpg (6-speed manual)

1.8-liter inline-4
140 horsepower @ 6,100 rpm
126 lb-ft of torque @ 4,000 rpm
EPA city/highway fuel economy:
Corolla LE Eco: 30/42 mpg (CVTi-S automatic)
Corolla LE Eco Plus & Eco Premium: 30/40 mpg (CVTi-S automatic)
Starting with a Manufacturer's Suggested Retail Price (MSRP) of around $17,500 for the Corolla L and reaching over $24,000 for a Corolla S model loaded past the point of "a good value," the 2014 Toyota Corolla resides right in the heart of the compact-sedan pricing spectrum. Notably, that high end is also where you can enjoy some really nice midsize sedans as well. Before you close a deal on your new Corolla, be sure to check out the KBB.com Fair Purchase Price to see what kinds of deals other folks in your area are getting for theirs. Since the 2014 Corolla is an "all-new" vehicle, it's too early for us to make a call on how well it's going to hold its value over the years, but we will go on the record saying that no brand retains its resale value more consistently than Toyota.
To compare current market prices, check out KBB.com's car classifieds to view the new and used Toyota Corolla vehicles for sale near you.