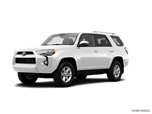 Updates have been made to the front fascia, while interior upgrades include the addition of soft-touch material to the door trim and Entune Audio Plus multimedia on SR5 and Trail models. With the new audio system, the "party mode" rear liftgate-speaker audio setting feature has bid adieu.
About Toyota 4Runner
The 2014 Toyota 4Runner is among the last of its kind: a rugged, mid-size sport-utility vehicle that finds purpose where the pavement ends. While others such as the Nissan Pathfinder and Ford Explorer have transformed into car-based crossover SUVs that emphasize a refined ride and better fuel economy, the 4Runner is built with adventure in mind. This SUV is still adept as a daily driver, and with its outstanding reliability record and seating for up to seven, it's a tempting choice for lovers of the outdoors and families that would rather camp in the mountains than shop at the mall. The trade-offs for the 4Runner's off-road capabilities come at the expense of middling fuel economy and a rather truck-like ride.