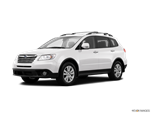 The only change of note for the 2014 Subaru Tribeca is that the moonroof and small 3.5-inch rear-camera display that had previously been bundled into a package are now standard.
For 2013, the Subaru Tribeca is offered only in Limited trim, and a new brake override system is added this year. The system cuts engine power when both the brake and accelerator are depressed at the same time.
About Subaru Tribeca
For brand loyalists, perhaps the most important thing about the 2014 Subaru Tribeca is that it's a Subaru. As the automaker's largest and most expensive vehicle, the 7-passenger Tribeca SUV offers families who have outgrown their Outback or Forester a way to move up. The Tribeca is notable for its standard 6-cylinder boxer engine and sophisticated all-wheel-drive (AWD) system, which enable this 3-row SUV to be a tenacious handler in slick and snowy conditions. However, the aging Tribeca trails rivals such as the Nissan Pathfinder, Chevrolet Traverse and Hyundai Santa Fe in technology, fuel economy and feature availability while still commanding a nearly $35,000 starting price.