Subaru's Outback for 2016 sees only minor improvement over last year's model. A new Starlink safety and security package is added to the Premium and Limited trims, while the EyeSight system gains Lane Keep Assist. Steering feel has been enhanced, and the Limited trim has its suspension recalibrated for a smoother ride.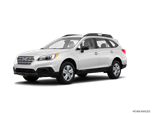 The 2015 Subaru Outback is all new this year. Among its many key features is the addition of X-Mode to the all-wheel-drive system, which enhances off-road capability. It also expands the availability of EyeSight, which uses two cameras for active cruise control, collision warning, and collision mitigation.
About Subaru Outback
Subaru's 2016 Outback crossover wagon is one of the few crossover SUVs that can actually fulfill the promises made by its rugged exterior. Unlike the Toyota Venza, Chevrolet Equinox or Nissan Murano, the Outback's all-wheel-drive system is designed to tackle more than just snowy roads and dusty trails. Its 8.7 inches of ground clearance and X-Mode off-road assist speak volumes about the Outback's ability. The Outback's luxurious trappings coupled with the latest driver-assist technology, such as Subaru's EyeSight collision-mitigation and active cruise control, elevate the Outback to the realm of many premium luxury SUVs. The Subaru Outback for 2016 delivers a comfortable ride, precise steering and, with the 2.5-liter under the hood impressive fuel economy.