2007 Subaru Outback Review
By KBB.com Editors
Subaru builds the Outback for active individuals who shudder at the thought of driving a fuel-thirsty SUV. Based on the popular Legacy sedan and wagon, the Outback takes Subaru's four-wheel-drive philosophy one step further by increasing ground clearance, adding protective side cladding and offering a host of accessories designed to carry various types of equipment and cargo. Offered in four wagon and two sedan trims, and the smaller, Impreza-based Sport version, the rugged Outback models range from simple (2.5i), to sporty (2.5 XT Limited), to simply luxurious (3.0 R L.L. Bean Edition). Engine choices vary by model and include a powerful turbocharged four-cylinder and a refined six-cylinder. Of course, Subaru's legendary Symmetrical All-Wheel-Drive is standard, as is the ability to go just about anywhere four wheels can travel.
You'll Like This Car If...
If you need the sure-footed traction of all-wheel drive but shudder at the thought of driving a big, fuel-inefficient SUV, the Outback is the answer. All-wheel-drive confidence and new safety features add up to a prudent and pleasurable road experience, heightened by a comfortable highway ride.
You May Not Like This Car If...
If you need an off-road vehicle that can also tow heavy loads and seat seven, the Outback is no match for a truck-based, V8-powered SUV.
What's Significant About This Car?
Model designations have been rearranged to include the smaller Sport, a 2.5i Basic Wagon, 2.5i Wagon, 2.5i Limited Sedan, 2.5 XT Limited Wagon and 3.0 R L.L. Bean Sedan and Wagon. The 2.5 XT Limited now features the SI-DRIVE performance management system.
Driving Impressions Ride comfort leads the Outback's list of benefits. On rougher surfaces, though, the suspension tries its best to maintain a level attitude but some occupant-tossing may occur. Acceleration with the...
turbocharged engine is almost too swift. Nudge the pedal at a standstill and the XT Limited is likely to lunge heartily forward, though response to pass or merge isn't quite so assertive. Quiet-running, an Outback maneuvers well, but requires more steering effort than some drivers might find reasonable. Overall, the XT Limited isn't quite as much fun as you might expect of a smaller, turbocharged car, but that's easily outweighed by its sensible utility.
All-Wheel Drive
This could be Subaru's number-one selling point, since no other manufacturer makes such a system standard on all models.

Semi-Manual Shift Mode
Tapping a steering-wheel button in the 2.5 XT Limited lets you downshift briefly without going into full manual mode. This can be handy when road or traffic conditions change suddenly, and the transmission resumes normal operation as soon as the temporary situation ends.
2007 Subaru Outback Details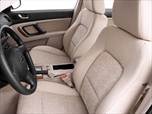 Interior
Like most aspects of the Outback, its dashboard and control layout convey a down-to-business personality. Subaru notes that the Outback's seating position provides a more "commanding" view than ordinary wagons. Two-toned interiors are fitted with cloth upholstery on 2.5i and 2.5 XT Limited trims, while the L.L. Bean receives leather trim. Seats are inviting and supportive, visibility is excellent all-around and the Outback runs quietly. The Sporty 2.5 XT Limited uses an electroluminescent LED instrument display.
Exterior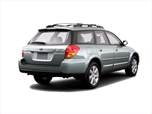 Subaru calls the Outback the "world's first sport utility wagon," calling attention to its pronounced wedge-shaped profile. Its SUV-like attributes are subtle but noticeable. Aerodynamic ground-effects components blend with more pronounced wheel arches to give it a bolder stance. A rear gate spoiler is installed and, on the 2.5 XT Limited turbo model, a functional hood scoop feeds air to the engine's intercooler.
Standard Equipment
The 2.5i Basic Wagon includes front side-impact airbags, side-curtain airbags, four-wheel anti-lock disc brakes (ABS), cloth upholstery, power windows and locks, cruise control, remote keyless entry, 100-watt stereo with six speakers and CD/MP3 player, air conditioning and an alarm system. The 2.5i Limited has an automatic transmission, leather seating, power glass moonroof, six-disc CD changer and dual-zone automatic air conditioning. The 3.0 R L.L. Bean Edition adds a 3.0-liter six-cylinder engine, Vehicle Dynamic Control (VDC), wood and leather-wrapped steering wheel and a panoramic tilt/sliding dual panel moonroof (wagon).
Optional Equipment
Practical-duty accessories include a bike carrier and ski attachment set. Buyers have three engine choices and three types of all-wheel drive from which to choose, but they are available according to model rather than as separately ordered options. Individual options include upgraded audio and DVD navigation.
The Outback offers three engine options: A 2.5-liter four-cylinder, a 2.5-liter turbocharged four-cylinder and a 3.0-liter six-cylinder. The normally-aspirated 2.5-liter boxer engine produces enough power to suit most non-enthusiast drivers. It also offers the best fuel economy. The turbocharged 2.5-liter engine provides nearly the same horsepower as the 3.0-liter six-cylinder, but offers more torque at a lower rpm, perfect for performance driving. The 3.0-liter six-cylinder found on the luxury models is strong and smooth and is matched with Variable Torque Distribution, which is Subaru's most sophisticated all-wheel-drive system.

2.5-liter Boxer-4
175 horsepower @ 6000 rpm
169 lb.-ft. of torque @ 4400 rpm
EPA city/highway fuel economy: 23/28 (manual), 22/28 (automatic)

2.5-liter Boxer-4 Turbocharged
243 horsepower @ 6000 rpm
241 lb.-ft. of torque @ 3600 rpm
EPA city/highway fuel economy: 21/27 (manual), 20/26 (automatic)

3.0-liter Boxer-6
245 horsepower @ 6600 rpm
215 lb.-ft. of torque @ 4200 rpm
EPA city/highway fuel economy: 19/26
To compare current market prices, check out KBB.com's car classifieds to view the new and used Subaru Outback vehicles for sale near you.