For 2013, the Legacy sedan gets a minor facelift, a stiffer suspension and upgraded radios with Bluetooth. The Limited can be equipped with Subaru's EyeSight driver assist (Pre-Collision Braking, Adaptive Cruise Control and Lane Departure Warning), as well as a new navigation system. Lastly, a new 2.5i Sport trim level supplants last year's 2.5GT variant.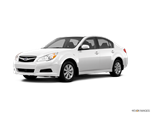 Subaru's penchant for an abundance of trim levels continues, with seven 2012 Legacy models in total. The popular mid-level Premium models add an improved 6-speaker audio system with Bluetooth phone and wireless audio streaming plus an iPod connection. Top-tier Limited models now have standard foglights
About Subaru Legacy
Since making its historical mark in the mid-'90s with victories in the World Rally Championships, Subaru has staked claim to a hard-earned reputation for serious performance. Such an image, however, doesn't always translate into increased sales. Subaru's WRX and WRX STI enjoy a legion of fans, but that legion isn't enough to support the sales volume appropriate for a market as expansive as the United States. To that end, performance derivatives of the Legacy, including the GT and (most recently) the new spec.B, are intended to excite enthusiasts, drive more mainstream customers into the showrooms and move Subaru into consideration against some near-luxury competitors, such as the BMW 3-Series and Audi A4. On several levels the new Legacy succeeds, and the prospects only get brighter with modifications made to the 2007 lineup.