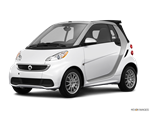 The biggest news for the Smart lineup is an all-new electric version. The plug-in Fortwo is more powerful and will goes farther per charge than its previous, limited-quantity EV version. The standard lineup sees the addition of two special editions and a Brabus sport package.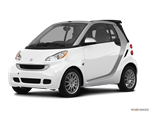 The Smart Fortwo receives a modest aesthetic refresh for the 2012 model year along with a newly available navigation system.
About Smart fortwo
Americans don't like small cars. That's an over-generalization, of course, but there's little doubt our country's is the biggest, heaviest vehicle fleet in the world. Record gas prices and increasing environmental awareness, though, have combined to create a bona fide boom in sales of compact cars. In some respects, Mercedes-Benz couldn't have chosen a better time to introduce to the U.S. its smart brand microcars that have been tooling around Europe for 10 years now. The new, second-generation fortwo is also larger than the first (believe it or not), which is just the way we Americans like it.