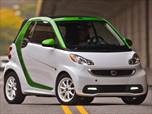 The 2015 Smart Fortwo carries on for one more year before the all-new 2016 Smart Fortwo arrives with new looks, new equipment, more space and what promises to be better ride quality.
About smart fortwo electric drive
When the Smart Fortwo microcar debuted in 2008, it was unlike anything else. Beyond having the smallest footprint of any car on the road, the Smart boasted high fuel economy, a low price, Euro charm and the ability to snag the smallest of parking spots. But the initial glow has faded from this 2-seat coupe and convertible. Furthermore, newer and better competition has arrived in the Chevrolet Spark, Fiat 500 and Scion iQ. Those rivals offer plenty the Smart doesn't, including standard power steering. 2015 Smart Fortwo buyers may still rightly be tempted by the car's ability to park anywhere or the no-gasoline-required Smart Fortwo Electric Drive. If you can wait, the all-new 2016 Smart is around the corner and looks promising.