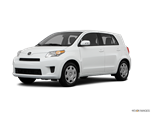 For 2013, the Scion xD receives additional front-seat cushion airbags, white gauge faces and smoke-colored headlight housings.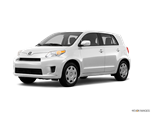 Scion adds a new Pioneer audio system with HD Radio and Bluetooth to the 2012 xD. In addition, a new Release Series 4.0 model is available for 2012 with Blizzard Pearl paint, gunmetal-finished 16-inch alloy wheels and exterior-color-matched interior trim.
About Scion xD
Scion has, in its fairly short history, always striven to be the purveyor of uber-cool in the automotive world, looking to create true trend-setter and lifestyle-focused vehicles. What many overlook is that Scion builds products that are applicable to a wide audience of both young and old alike, as truly practical and affordable modes of transportation that don't loudly scream "budget." The 2008 Scion xD, with its aggressive short, squat stance, four doors and convenient hatchback, is a nice addition to the Scion family line-up. As a replacement for the xA, the xD delivers slightly less interior and cargo room, but offers a bigger engine with 25 additional horsepower.