Narrow year range (drag arrows to filter):
See photos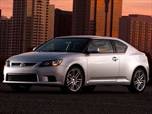 After a major design in 2011, the 2013 Scion tC coupe is little changed in base form but as usual, a new up-level trim, called Release Series 8.0 this year, is added to the line. It's a striking, limited-production (2,000 units) configuration. Available only in Absolutely Red with black trim, 8.0 combines styling touches from Five Axis and performance parts from Toyota Racing Development (TRD).

About Scion tC
While the 2015 Scion tC isn't as quick as its sporty styling suggests, it still holds appeal for buyers who want an affordable, good-looking and fun-to-drive coupe. Loaded with a high-end audio system, plenty of visual upgrades and even a few performance parts from TRD, Scion's in-house aftermarket division, the Scion tC splits the difference in price and performance between rivals like the Honda Civic EX and Si models, with a price starting just under $20,000 without going much higher. The usable rear seat makes it more practical than other sporty cars, and the hatchback is easy to load and surprisingly roomy. While it's handily outclassed by Scion's own FR-S coupe, the tC's reliability and solid resale history help this little 2-door thrive.