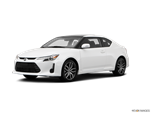 The 2014 Scion tC receives a new front end, LED accent lights and a freshened interior. A new standard audio system incorporates a 6.1-inch touch screen, while a new 6-speed automatic transmission is programmed for quicker shifts and features rev-matching technology. A limited-production 10 Series edition is also offered.
After a major design in 2011, the 2013 Scion tC coupe is little changed in base form but as usual, a new up-level trim, called Release Series 8.0 this year, is added to the line. It's a striking, limited-production (2,000 units) configuration. Available only in Absolutely Red with black trim, 8.0 combines styling touches from Five Axis and performance parts from Toyota Racing Development (TRD).

About Scion tC
The sporty 2014 Scion tC coupe isn't the quickest 2-door on the market, and it is eclipsed in the fun-to-drive department by Scion's new FR-S rear-drive sport coupe. But, the tC continues to hold appeal to buyers looking for an affordable and fun coupe loaded with high-tech audio and add-on features all for a price in reach of anyone who can secure a car loan. Toss in an enviable reliability and resale history, a usable rear seat and improvements to the car's performance abilities and the tC seems destined to thrive.