After a major design in 2011, the 2013 Scion tC coupe is little changed in base form but as usual, a new up-level trim, called Release Series 8.0 this year, is added to the line. It's a striking, limited-production (2,000 units) configuration. Available only in Absolutely Red with black trim, 8.0 combines styling touches from Five Axis and performance parts from Toyota Racing Development (TRD).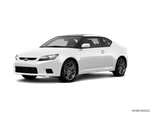 After a design reboot for the 2011 model, the 2012 Scion tC coupe sees few base-model changes. The most notable change is the new 300-watt Pioneer sound system. The "High Voltage" Release Series 7.0 package is the biggest new feature available, giving buyers upgraded wheels, a TRD-designed body kit, keyless entry and push-button start, and a unique High Voltage finish.
About Scion tC
The Scion tC has proven to be everything its competitors feared. Smartly styled, fuel-efficient and a blast to drive, the little tC is more than just a good value—it has become the poster child for the lucrative aftermarket parts and customization crowd. Though not as space-efficient as the xA or xB, the tC can comfortably fit two adults and its versatile hatch design makes it easy to load in sports equipment or overnight gear. A near-flawless repair history and excellent resale value are but part of the tC's early success stories. By holding the tC's price well below $18,000, Scion has grabbed a substantial chunk of the all-important youth market, grabbing young buyers who may likely move up to Toyota and Lexus brands as they grow older.