KBB Editors' Overview
By KBB.com Editors - Updated Date: 10/10/2011
---
You can blame (or thank) MINI Cooper for this. Ever since the cheeky little Brit was reintroduced in 2003, buyers have been going gaga for small, personal city cars. Where small cars used to be cheap, inexpensive transportation, this new breed combines style, personality and performance along with the premium price tag. The key players in the game are currently MINI, Smart, the new FIAT 500, and now, the all-new 2012 Scion iQ. The funniest thing about this is that the largest car in the class is...you guessed it, the MINI.

You'll Like This Car If...
If you're an urban dweller who has to fight it out for parking, or an eco-minded driver who doesn't want to give up the toys. If you find the Smart too small, the MINI too pricey, and the FIAT questionable on reliability, the iQ hatchback could be just right.

You May Not Like This Car If...
First of all, you either like the Scion iQ styling or you don't. If you're looking for cheap transportation or need 4-passenger capacity, the Toyota Yaris and Nissan Versa sedan (both all-new for 2012), Honda Fit and Mazda2 will better fit the bill.

What's New for 2012
The 2012 Scion iQ is a master of hatchback packaging, fitting 2 +1 seating (we can explain) into a stylish package that is incredibly small on the outside, yet surprisingly roomy inside. And the front-drive, 3-door hatchback looks like the kind of futuristic cars we all thought we'd be driving by now. So...now you can.

Driving It
Driving Impressions
When you're behind the wheel of the 2012 Scion iQ hatchback, it's easy to forget you're in a car that's shorter than a MINI. You sit tall, like in the FIAT 500, and that gives excellent visibility. Unlike the FIAT, the Scion feels more sleek and coupe-like, thanks to a smaller greenhouse. Scion puts the dashboard and center stack further away, enhancing the impression you're driving a larger car. The drive doesn't betray it – the 92-hp 4-cylinder is smooth and the iQ provides a surprisingly quiet ride. Freeway speeds are comfy, with only a little nudge from side winds betraying the short wheelbase. In town, it's only when you crank over the steering wheel, when the 2012 iQ turns on it's heels like an exuberant Jack Russell Terrier, that it strikes you how maneuverable the little Scion is. Keep the CVT automatic transmission in Sport mode, and you'll get more zippy performance, but it can't match the Italians (FIAT) or Germans (MINI) for road feel and driving fun.

Favorite Features
Leather-wrapped steering wheel
You wouldn't think you'd get excited about a steering wheel, but the standard Scion iQ wheel has a fat, leather-wrapped rim, and angular contours that make it look like it came from a Ferrari. Nice.

Staggered 3-person seating
By pushing the dashboard and console way forward, the Scion iQ puts the front passenger slightly ahead of the driver, adding enough room for a passenger in the back. Clever. No such luck for those behind the driver, though.

Vehicle Details
Interior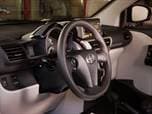 Think of the Scion iQ as a 2-seater with room for an occasional third, and you've got it right. Considering the hatchback's tiny overall length, room up front is impressive. The seats are ample-sized and quite comfortable too. (Warning! If you've got both rear seats up, cargo room is non-existent.) Even more impressive is the iQ interior design, with beautiful curved door handles, a curved cascading center stack, and nice quality materials throughout. It's a nice place to spend time.

Exterior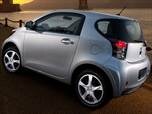 When you think about the Scion iQ's competitors, you realize that both the MINI Cooper and the FIAT 500 are retro-classic designs that have been re-envisioned. The Scion charts a bold new course. It's funky and aero. So we were surprised our 2012 Scion iQ test car didn't turn more heads. We think it's the dark charcoal (magnet gray metallic) paint. We've seen other iQ hatchbacks in a bright orange ("Hot Lava" to Scion) and white ("Blizzard Pearl"), and they really grab your attention. Because it's a Scion, you have a wide choice of personalization, including accessory body parts and wheels, so making one your own should be easy.

Notable Standard Equipment
The 2012 Scion iQ comes impressively equipped. At its $15,999 starting price, standard goodies include air conditioning, power locks/windows/mirrors, keyless entry with electronic rear-hatch locking system, a thumping 160-watt Pioneer audio system with HD technology, a USB input for your iPod, Bluetooth connectivity, 16-inch covered steel wheels, and a continuously variable automatic transmission (CVT).
Buyers with safety concerns about the iQ's small size will be happy to know about its armada of airbags, including driver and passenger front, knee, seat-mounted side and side curtain air bags. There are also unique front seat-cushion airbags and a rear-window airbag that deploys around the rear headrests.

Notable Optional Equipment
There's basically only one Scion iQ model, but like other Scion models, there's a nice array of accessories. On the outside, there's a 4-piece aero kit, rear spoiler, mudguards and fog lights. For the inside, the usual assortment of floor mats and cargo nets is available, plus a cool interior-lighting kit. Those of you looking to terrorize your local on ramp can plump for (Toyota Racing Development (TRD) lowering springs and a rear sway bar. Alloy wheels are available, as is a full-featured navigation system.

Under the Hood
The front-wheel-drive (FWD) 2012 Scion iQ gets its kicks from a 1.4-liter 4-cylinder engine that puts out 94 hp. It may be small, but it's a technical powerhouse, with dual overhead camshafts, four valves per cylinder and dual variable valve timing. Toyota recommends 87-octane gasoline – which when combined with EPA fuel-economy estimates of 36 mpg city and 37 mpg highway, you won't be spending much at the pump.

1.4-liter in-line 4
94 horsepower @ 6,000 rpm
89 lb-ft of torque @ 4,400 rpm
EPA city/highway fuel economy: 36/37
Pricing Notes
Note: The iQ is just starting to go on sale, and Scion is doing a national roll-out. Check www.scion.com to find out when the iQ will be available in your area. The 2012 Scion iQ starts at a Manufacturer's Suggested Retail Price (MSRP) of $15,999 and can run up to $20,000 fully accessorized. That puts it right in the crosshairs of the 2012 FIAT 500, which starts at $16,000, but can top out at $25,000. Meanwhile, the 2012 MINI Cooper has a starting sticker price of $20,200 and can top $30,000. Being the new kid on the block, we expect the 2012 Scion iQ will be in high demand to start - and that Kelley Blue Book Fair Purchase Price will reflect real-world transaction prices close to MSRP.