Vehicle Details
Interior
The Rolls-Royce Wraith is hand built in Goodwood, England. That hand-crafted quality comes through loud and clear as you explore the exceptional materials and workmanship of this roughly $300,000 car. The feeling of exceptionalism is amplified by details like exquisite wood inlays, organ pull vent controls, and umbrellas that pop out from receptacles that extend into the front fenders from the front doorjambs . For all its loftiness, the interior is still easy to live with. There's a good-sized 16.6-cubic-foot trunk, plenty of passenger space in each of the four seats, and a decent infotainment system to keep occupants entertained and informed.
Exterior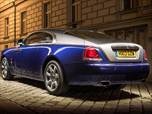 With its proud vertical-slat grille, high beltline, and Spirit of Ecstasy statue on the nose, there's no confusing the Wraith for anything other than a Rolls-Royce. As the most "youthful" Rolls-Royce, the Wraith also sports some unique details, prime among them its sloping fastback roofline. Thankfully, the car's striking silhouette does little to hinder rear-seat headroom. Another signature detail is the Wraith's rear-hinged door design. The doors may look cool, but it's nearly impossible to reach the handle to close them when seated. No worries, Rolls-Royce includes a standard button-operated door-close feature.
Notable Standard Equipment
Unsurprisingly the "basic" $289,000 Rolls-Royce Wraith includes pretty much everything you'd want in a car. Power memory seats, 4-zone climate control, a navigation-equipped infotainment system, and 20-inch wheels with perpetually upright, free-floating logos are all included as standard equipment. A wide variety of interior and exterior color choices are also offered at no extra charge.
Notable Optional Equipment
While the basic car comes well equipped, there's plenty of room to drive your Wraith's purchase price higher. Standout add-ons include dynamic cruise control, night-vision warning system, lane-departure warning, keyless entry, an $8,000 moonroof, and ventilated front seats with massage. Vehicle customization goes even further with various wood, leather and lamb's wool interior adornments, numerous wheel choices, and the option to illuminate, up-light, or gold plate the Spirit of Ecstasy hood ornament. Beyond all that, Rolls-Royce is happy to fulfill nearly any customer request provided you have the necessary funds. So start limbering up your imagination and checkbook.
Under the Hood
Power flows from the 2014 Wraith's big 6.6-liter V12 engine through an 8-speed automatic transmission to the rear wheels. Rolls-Royce is proud of the fact that this particular 8-speed is location aware. Using GPS data it knows what the road ahead looks like and supposedly makes shift decisions based on that information. It's a fine concept but when looking to accelerate we found the transmission sometimes downshifted to an intermediary gear before selecting the one most appropriate for our acceleration request. Strange behavior for such an advanced transmission, but all told a minor quibble in what is an otherwise stellar powertrain.

6.6-liter turbocharged V12
624 horsepower @ 5,600 rpm
590 lb-ft of torque @ 1,500 rpm
EPA city/highway fuel economy: 13/21 mpg
Pricing Notes
Including a $1,700 gas guzzler tax and a $2,000 delivery charge, the base price for a 2014 Rolls-Royce Wraith is $288,600. Check all the key option boxes and that price easily rises to around $340,000. Start selecting custom paints, interior treatments and various personalized bits, and the sticker price will rise as high as your bank account allows. Both the Bentley Continental GT Speed and the upcoming Mercedes-Benz S-Class Coupe offer much lower price tags, but neither can match the sheer presence of a Rolls-Royce Wraith. Given its extremely limited production numbers Kelley Blue Book doesn't have resale data for the Wraith, but let's just assume it won't be the best investment in your portfolio.
To find out what consumers are really paying for this vehicle, check the Fair Purchase Price | Calculate payments for this vehicle
---