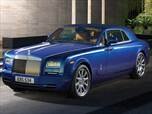 With the exception of a limited-production Waterspeed Collection Drophead Coupe (a production run of 35 in all), there are no major changes for the 2014 Rolls-Royce Phantom.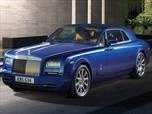 For 2013, the Rolls-Royce Phantom receives minor exterior changes that include a sleeker fascia with LED headlamps, upgraded technology with a larger center display and navigation software, and an 8-speed ZF automatic transmission.
About Rolls-Royce Phantom
It's difficult to conceive of anything more extravagant (and possibly ostentatious) than the 2014 Rolls-Royce Phantom luxury car. The legendary British manufacturer has created a machine utterly dedicated to pleasing its owner, allowing for any number of personalized features, albeit at a hefty premium. Ranked as one of the world's most desirable cars, the Phantom's $400,000-plus starting price really does limit its owner circle to an elite few, but really isn't that the whole idea behind exclusivity? The handbuilt Phantom outshines the Mercedes-Benz S-Class and even the Bentley Continental GT, especially the stunning Drophead model with its long, rear-hinged doors and teakwood tonneau cover. For those who need more rear-seat legroom, the sedan offers an extended-wheelbase version.