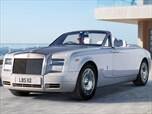 For 2015, Phantoms, minor changes include black brake calipers, LED lighting for the lamps in vanity mirrors and new wheel finishes. In the 2-door Phantom Coupe and Drophead Coupe (convertible), the front seat automatically returns to its position after moving forward to let rear-seat passengers inside.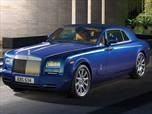 With the exception of a limited-production Waterspeed Collection Drophead Coupe (a production run of 35 in all), there are no major changes for the 2014 Rolls-Royce Phantom.
About Rolls-Royce Phantom
At once a statement of automotive excess and a manifestation of ultimate indulgence, the 2015 Rolls-Royce Phantom is the pinnacle of passenger cars. Available as a sedan, coupe or convertible, this hand-built British car is reserved for the world's wealthiest families and individuals who don't need to ask the price – of anything. For the record (and the rest of us) Rolls-Royce's flagship starts beyond $400,000 and zooms higher with personalized options that alone cost more than many economy cars. All Phantom models are powered by a massive V12, but driving one of these behemoths is almost a secondary sensation. Whether seated up front or being chauffeured, passengers are treated to the finest materials and one of the plushest rides money can buy.