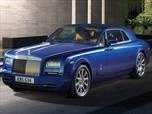 For 2013, the Rolls-Royce Phantom receives minor exterior changes that include a sleeker fascia with LED headlamps, upgraded technology with a larger center display and navigation software, and an 8-speed ZF automatic transmission.
About Rolls-Royce Phantom
It's hard to envision an automobile more extravagant than the 2013 Rolls-Royce Phantom. When it comes to spare-no-expense production vehicles, this massive British luxury car ranks among the world's elite. Perched on top of the global automotive pyramid, Rolls-Royce vehicles are exclusive to begin with, and the Phantom is the brand's costliest. At $400,000 and up, these vehicles are nearly twice the median price of a new home. The Phantom was introduced in 2003 and has been revised for 2013 with sleeker looks, more technology and a new name: The Phantom Series II. The handmade vehicle is available as a 4- or 5-seat sedan, a 4-seat coupe and a 4-seat convertible. For those who want to travel even larger, there is the Extended Wheelbase version of the sedan.