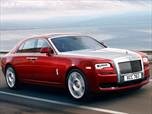 In a "discreet and considered update," the Ghost Series II receives freshened exterior styling with redesigned LED headlights and a tapered wake in the hood. Inside, the front seats are redesigned, and further under the skin the Ghost's suspension has been enhanced and the transmission is now aided by satellite technology (seriously!).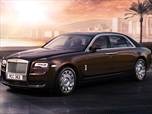 The 2014 Rolls-Royce Ghost offers up a limited-edition performance package called V-Specification. For an extra $20,000 – a pittance for a Rolls-Royce owner – you get an additional 30 horsepower from the V12 engine, plus special wheels and embroidery. The V-Specification is available from January to July of 2014.
About Rolls-Royce Ghost
When the Ghost was born five years ago it heralded the "entry-level" Rolls-Royce. But make no mistake: There's nothing second-rate about this British ultra-luxury sedan. Boasting its first significant freshening and a new moniker – it's now known as the Series II – the 2015 Rolls-Royce Ghost is among the creme de la creme of automobiles. Available in standard or extended-wheelbase form, the Rolls-Royce Ghost Series II has enormous power from a twin-turbocharged V12, an opulent interior with features such as massaging seats, and cutting-edge technology like an infrared night-vision camera to see what human eyes cannot. The Ghost is the least expensive Rolls-Royce, but at nearly $300,000 before options, it still costs more than a house.