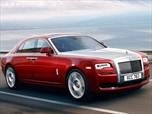 The 2014 Rolls-Royce Ghost offers up a limited-edition performance package called V-Specification. For an extra $20,000 – a pittance for a Rolls-Royce owner – you get an additional 30 horsepower from the V12 engine, plus special wheels and embroidery. The V-Specification is available from January to July of 2014.
About Rolls-Royce Ghost
One would think that simply owning a 2014 Rolls-Royce Ghost – regular or long-wheelbase version – would be enough. Yet the storied British manufacturer has added a special edition to its Ghost sedan: the V-Specification. In addition to adding 30 more horsepower to the already-powerful V12 engine, the V-Specification gives the Ghost special wheels, embroidered armrests, and other touches, for an additional $20,000. That's a lot, to be sure, but considering the entry price for a Rolls-Royce Ghost is already more than $267,000, we suppose it's not too bad. Besides, anybody shopping for a Rolls-Royce isn't really looking for bargains. In fact, part of the appeal of the brand is its Bespoke division, which can individualize your car however you can imagine...and afford.