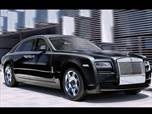 For 2013, the Rolls-Royce Ghost gains a few new features, chief among them a new audio amplifier system with "exciter" speakers sewn into the headliner for better sound dispersion. Also new is an automatic trunk opener that is activated by passing one's foot under the rear bumper. The Ghost's interior is upgraded with new natural-grain leathers and cross-banded wood veneers.
For 2012, the Rolls-Royce Ghost is available in a longer, extended-wheelbase version. At 219.3 inches, it's about half a foot longer than the standard Ghost and offers more than seven inches of additional rear legroom. Also new is a 2-tone bespoke option that creates a similar exterior look to 2-tone versions of the Phantom.
About Rolls-Royce Ghost
Don't let the 2012 Rolls-Royce Ghost's "bargain" starting price of roughly $250,000 fool you: It is still a Rolls-Royce through and through – and then some. In fact, when it was introduced in 2010, the Ghost boasted the most powerful engine ever put into a Rolls-Royce automobile, and some of the most sophisticated technology as well. The 4- or 5-passenger sedan is still massive, but is more manageable around town than the larger Rolls-Royce Phantom models. As would be expected in a car of this caliber, interior opulence abounds. Just as impressive is its twin-turbo V12, which effortlessly moves this heavy, rear-wheel-drive sedan. For those who can afford such a vehicle, the 2012 Rolls-Royce Ghost is among the most luxurious ways possible to travel by land.