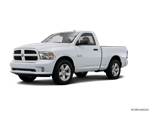 For 2015, the Ram 1500 keeps its pricing inline, but sees max tow ratings increase to 10,700 pounds.
About Ram 1500 Regular Cab
Despite falling fuel costs, today's full-size truck buyer demands maximum fuel economy without sacrificing power or capability. To achieve this goal, the 2015 Ram 1500 pickup truck offers a number of innovative features aimed squarely at out-performing Ford's F-150 EcoBoost and GM's Silverado/Sierra twins. It starts with an 8-speed automatic transmission and moves on to an active air suspension that can lower the vehicle and active grille shutter to reduce drag. Available with all the required cab and bed configurations, in either 2-wheel or 4-wheel drive, the Ram 1500 goes above and beyond with its stylish exterior and well-appointed cabin. Under the hood, the Ram 1500 for 2015 offers the choice of a 305-horsepower V6, a 395-horsepower Hemi V8, or a 3.0-liter turbodiesel V6 good for 240 horsepower.