See photos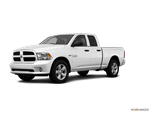 To the casual observer, the new-for-2013 Ram 1500 might look like a carryover from last year. Under the skin, however, the 1500 series offers a new fuel-efficient Pentastar V6 engine, 8-speed automatic gearbox, multi-mode air suspension, next-generation Uconnect infotainment system and a host of supplementary fuel-saving technologies.
About Ram 1500 Quad Cab
Although in the past Dodge did not own a substantial portion of the full-size truck market, its Ram pickups retained a fiercely loyal fan base and offered some of the most outlandish full-size models on the market (think Ram SRT10). The Ram brand is now its own division, although the trucks are still sold and serviced through Dodge dealers. With clever marketing tools, distinctive styling and innovative features, Ram hopes its 1500 line will continue chipping away at rivals Chevrolet Silverado, Ford F-150 and Toyota Tundra.