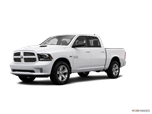 By far, the most important news for the Ram 1500 for 2014 is the addition of the 3.0-liter turbocharged EcoDiesel V6 engine. With 240 horsepower, it makes 420 lb-ft of torque (more than the 5.7-liter Hemi) and at only 2,000 rpm, so this combination will not shirk from hard work. And, it is expected to deliver best-in-class fuel economy while doing it.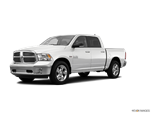 To the casual observer, the new-for-2013 Ram 1500 might look like a carryover from last year. Under the skin, however, the 1500 series offers a new fuel-efficient Pentastar V6 engine, 8-speed automatic gearbox, multi-mode air suspension, next-generation Uconnect infotainment system and a host of supplementary fuel-saving technologies.
About Ram 1500 Crew Cab
Full-size pickup trucks are now being asked to deliver ever-better fuel economy, and the 2014 Ram 1500 will be right around the top of the list. Among its fuel-saving features are an engine stop-start function, an available TorqueFlite 8-speed automatic transmission, and active aerodynamics, with grille shutters and an air suspension that, among other things, can lower the vehicle to reduce aerodynamic drag. There are all the expected configurations of bodies and cargo beds, 2-wheel drive and 4-wheel drive, and three engine choices: the 3.6-liter 305-horsepower gasoline V6, the well-known 5.7-liter 395-horsepower Hemi gasoline V8, and the new 3.0-liter 240-horsepower turbocharged EcoDiesel V6, which will be the fuel-economy leader. The 2014 Ram 1500 offers something for just about any full-size truck buyer.