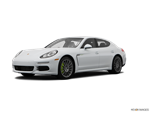 The 2016 Porsche Panamera charges into the new year virtually unchanged. There's a new charging dock holder for the E Hybrid model, and a new rear-seat entertainment system is available.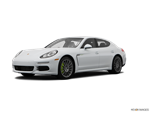 For 2015, the Porsche Panamera 4-door sports sedan sees few changes. The Turbo S receives standard LED headlights, while all models receive upgraded audio features such as HD and satellite radio.
About Porsche Panamera
While some manufacturers call their sedans "4-door sports cars," only the 2016 Porsche Panamera can say it with a straight face. As the polarizing effect of the Porsche Panamera's design has softened over the years, let us focus on what a fantastic driving car the Panamera is. Its looks are stunning, and it's available with everything from a V6 or a plug-in hybrid to a ground-pounding twin-turbo V8 with 570 horsepower. Yet it does all this while surrounding its driver and passengers in sublime comfort and luxury. Sure, a Mercedes-Benz S65 AMG offers more rear legroom, and the BMW 640i Gran Coupe costs less, but neither can match the Panamera's distinctive shape and incomparable driving experience.