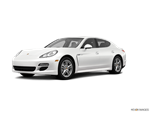 Bridging the performance gap between the Panamera S and Turbo trims, Porsche adds a GTS trim to the roster for 2013. In addition, a new Platinum Edition is available for base Panamera and all-wheel-drive Panamera 4 models, bringing with it distinctive aesthetic elements and enhanced features while making a strong value-added statement.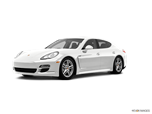 In addition to the inclusion of the Turbo S and S Hybrid into the model line, the 2012 Porsche Panamera has only minor changes, mostly options, like Lane Change Assistant and some Porsche Exclusive options, including bi-xenon headlight surrounds in black, Sports Exhaust Tailpipes and new leather packages.
About Porsche Panamera
The 2012 Porsche Panamera line includes seven variations, from the "base" model with rear-drive and a 300-horsepower 3.6-liter V6, to the Turbo S with a 550-horsepower twin-turbo 4.8-liter V8 and not so much a performance envelope as a performance shipping crate. Prices range from around $75K to well over twice that. In a way, there is no direct, clear market competition, as the 4-door Panamera defines the perhaps-paradoxical notion of a 4-door sports car and doesn't really fit the description of "sports sedan." Price, performance and image-wise there are the usual suspects from Mercedes-Benz, BMW and Audi, but the truth is, the Porsche Panamera is very much in a class by itself.