Vehicle Details
Interior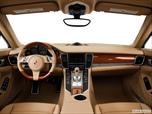 Because the seats in the 2014 Porsche Panamera 4-door sit low, getting in or out can take patience. The interior is a statement to Porsche luxury and technology, and fit and finish is impeccable. Seating is terrific for those in front, with plenty of space even for taller folks, but less so for those in the rear due to the sloped roof. Long-wheelbase versions add over 4.7 inches of extra legroom, which equates to VIP accommodations. Expectedly, the sound system is magnificent and there is enough technology to suit the most committed early-adopter, but we counted about 75 control functions that are reachable from the driver's seat.
Exterior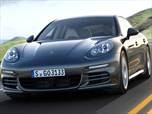 While Porsche's reputation was built on the racetracks of the world and that competition heritage is certainly the single-most significant aspect of the marketing message, the unmistakable "Porsche-ness" of the exterior shapes of all the company's products ties them together like pictures on a family greeting card. Even with four doors, there is no confusing that the 2014 Panamera is a Porsche. New styling for 2014 includes a tightening of the body's lines, available LED headlights, an expanded rear trunklid with a wider glass window and an electrically deploying spoiler.
Notable Standard Equipment
Standard equipment on the 2014 Porsche Panamera base version, besides all the usual luxury items appropriate for the price range, includes a slide/tilt moonroof, electronically-controlled shock absorbers, Porsche Stability Management, hard-drive-based navigation, an automatic liftgate, ParkAssist, Bluetooth, 8-way power front seats, and a host of additional luxury, convenience and safety features. Long-wheelbase executive models feature Adaptive air suspension and Porsche Active Suspension Management to improve both ride and handling.
Notable Optional Equipment
With a vehicle that offers paint and leather upholstery to match provided samples, you would be correct in guessing the list of available options is lengthy. Those options include sound systems from Burmester and Bose, Porsche Rear-Seat Entertainment with swiveling 7-inch screens, Lane Change Assist, adaptive cruise control, LED headlights, thermally- and noise-insulated glass, and 4-zone automatic climate control with separate air-temperature, blower-intensity and air-distribution adjustments for each seat.
Under the Hood
For 2014, the base rear-wheel-drive (RWD) Porsche Panamera and Panamera 4 – "4" is Porsche shorthand for all-wheel drive (AWD) – are powered by a 320-horsepower 3.6-liter all-aluminum V6. The S trims receive a new twin-turbo 3.0-liter V6 good for 420 horsepower. All other models (except the S E-Hybrid) have various versions of a 4.8-liter all-aluminum V8, which varies from 440 horsepower in the Panamera GTS all the way up to 520 hp in the Turbo Executive GT. All Panamera models, except the S E-Hybrid, have a 7-speed PDK automatic transmission with manual control. The Panamera S E-Hybrid has a 3.0-liter V6 paired with an electric motor and teamed to an 8-speed Tiptronic S automatic. The total output for the S E-Hybrid is a combined 416 horsepower.

Porsche Panamera (all)
3.6-liter V6 (Panamera, Panamera 4)
310 horsepower @ 6,200 rpm
295 lb-ft of torque @ 3,750 rpm
EPA city/highway fuel economy: 18/28 (RWD), 18/27 (AWD)

3.0-liter biturbo V6 (Panamera S, Panamera 4S)
420 horsepower @ 6,000 rpm
384 lb-ft of torque @ 1,750-5,000 rpm
EPA city/highway fuel economy: 17/27 mpg, 17/26 mpg (AWD, long-wheelbase Executive edition)

4.8-liter V8 (Panamera GTS)
440 horsepower @ 6,700 rpm
384 lb-ft of torque @ 3,500 rpm
EPA city/highway fuel economy: 16/24 mpg

4.8-liter twin-turbocharged V8 (Panamera Turbo)
520 horsepower @ 6,000 rpm
516 lb-ft of torque @ 2,250-4,500 rpm
EPA city/highway fuel economy: 15/24 mpg

4.8-liter twin-turbocharged (Panamera Turbo S)
570 horsepower @ 6,000 rpm
553 lb-ft of torque (590 lb-ft with overboost)
EPA city/highway fuel economy: 15/24 mpg

3.0-liter V6 with hybrid electric motor (Panamera S E-Hybrid)
416 horsepower @ 5,500 rpm (total system)
435 lb-ft of torque @ 1,250-4,000 rpm (total system)
EPA city/highway fuel economy: NA
Pricing Notes
The 2014 Porsche Panamera has a Manufacturer's Suggested Retail Price (MSRP) starting around $80,000, which is very near the base prices of the Jaguar XJ Series, the BMW 7 Series and the Lexus LS 460 L. Adding the AWD of the Panamera 4 bumps the price to about $84,000. The twin-turbo S and 4S are about $94,000 and $100,000, respectively, the Turbo model starts around $142,000, and the top-of-the-line Turbo Executive GT has a starting price just over $162,000 – adding Porsche options can increase that dramatically. The S E-Hybrid starts at about $100,000, but can easily be optioned to well over $110,000. Be sure and check out KBB's Fair Purchase Price and see what others in your area are paying for the 2014 Porsche Panamera. Residual values can be expected to be on par with, or perhaps slightly higher than, those for the BMW and Lexus, and considerably higher than those for the Jaguar.
To find out what consumers are really paying for this vehicle, check the Fair Purchase Price | Calculate payments for this vehicle
---