2014 Porsche Cayman Review
By KBB.com Editors
KBB Expert Rating: 8.2
Contrary to popular belief, the vaunted Porsche 911 is not the brand's most dynamically endowed performance car. Delivering the same weight balance found in the world's most sophisticated racecars, the mid-engine 2014 Porsche Cayman is perhaps the purest embodiment of a true driver's car. Lighter, wider, faster, and more efficient than its predecessor, the all-new Cayman is also more refined, offering a newly available Burmester premium audio system, optional adaptive cruise control, and top-notch interior materials. Like its drop-top twin, the Porsche Boxster, the 2014 Cayman offers a pair of flat-6 engines and a brilliant new design both inside and out. While rivals like the Chevrolet Corvette, Audi TTS, and the less expensive Nissan 370Z deliver comparable straight-line performance, none can match the Cayman's inimitable combination of handling prowess, sensory fulfillment and curbside presence.
You'll Like This Car If...
Contemporary mid-engine sports cars are an endangered species in today's marketplace, and most are unattainable for all but the well-to-do. If you are looking for the near-handling perfection and superior balance of a mid-engine coupe in an affordable package, the 2014 Porsche Cayman is the only game in town.
You May Not Like This Car If...
Snowbelters who plan to trudge their sports car through messy winter conditions might express a preference for the all-wheel-drive Audi TTS. On the value side of the ledger, the Cayman's extensive list of costly a la carte options can quickly vault the sticker price into the $90,000 range.
What's New for 2014
The 2014 model year marks the third generation of the Porsche Cayman. With a new aluminum-intensive body structure at its core, the 2014 Cayman is lighter, more agile and 40-percent stiffer than the outgoing version. And despite the price difference, well-appointed Cayman models exhibit the same premium look and feel as the flagship 911.
Driving Impressions The 2014 Porsche Cayman is designed for enthusiasts who like their performance doled out in a user-friendly fashion. Driver inputs are met with pleasingly predictable responses, and the precise, communicative...
steering is nothing short of a revelation given the fact that it's electrically assisted. Braking in both the Cayman and Cayman S is urgent and powerful, without feeling overly sensitive. The highly rigid chassis and taut suspension of the Cayman S is well suited for track days, but have a tendency to transmit much of the road's bumps and rumbles. In "Normal" mode, however, we found the available Porsche Active Suspension Management improves overall ride comfort without sacrificing dynamism, making the Cayman markedly more livable. Like the Nissan 370Z, the Cayman's manual gearbox incorporates a new rev-matching feature that automatically matches engine rpm to wheel speed during downshifts for smoother clutch re-engagements. Hardcore traditionalists need not fret, as this feature is offered only through the Sport Plus drive setting.
PDK TRANSMISSION
For the greatest acceleration regardless of variant, the Cayman's optional dual-clutch PDK transmission is the way to go. Beyond its performance credentials, the 7-speed PDK automatic provides a happy medium for drivers who need the traffic-friendliness of an automatic, but desire the raw, hard-wired feel of a conventional manual gearbox.

PORSCHE TORQUE VECTORING (PTV)
Based on vehicle speed, steering angle and throttle position, the optional PTV system gently applies the brake on the inside rear wheel to help minimize understeer (loss of front end traction) while entering corners.

2014 Porsche Cayman Details
Interior
The 2014 Porsche Cayman's cabin is sleek and upscale. In true Porsche tradition, the sophisticated cockpit-style layout features a driver-focused dashboard and a myriad of easily accessible controls. Gone is the claustrophobic feel of the previous cabin, replaced instead with ample headroom and a surprising amount of legroom for a segment not known for it. Ergonomics are outstanding, though outward visibility is quite limited due to the Cayman's high beltline and bulky C-pillar. The standard seats are supremely comfortable and supportive, and while the available sport seats further up the performance ante, we deem them non-essential.
Exterior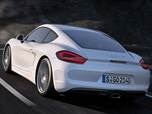 Sharing most design cues from its recently redesigned Boxster kin, the 2014 Porsche Cayman demonstrates a more assertive look, underscored by edgier lines, sloping headlights, and prominent side scallops. The body is now 44-percent aluminum, which makes the 2014 Cayman some 66-pounds lighter than the vehicle it replaces. A 2.4-inch longer wheelbase and wider track afford a sizable boost in high-speed stability. In terms of storage, the luggage area within the rear hatch coupled with a front trunk combine to deliver a commendable 15 cubic feet of cargo space, comparable to most mid-size sedans.
Standard Equipment
The 2014 Porsche Cayman is available in base and high-performance Cayman S trim levels. Standard features on the base model include 18-inch wheels, water-repellant front windows, rain-sensing windshield wipers, and a 4-speaker audio system with a 7-inch LCD touch screen. Beyond the extra horsepower, Cayman S models include a wider track for improved lateral grip, 19-inch wheels, and low/high beam xenon headlights that emit up to three times more light than conventional halogen systems. When it comes to safety, all Cayman models include eight airbags, a wide range of electronic stability aids, and complimentary roadside assistance for the duration of the limited warranty.
Optional Equipment
The 2014 Cayman offers a lengthy list of upgrades along with numerous bespoke options that will wrap just about any interior surface in leather, carbon fiber, Alcantara (synthetic suede), aluminum, or matching exterior paint. A new addition to the options roster is an adaptive cruise control system that employs a radar sensor to monitor traffic ahead and maintain the driver's selected following distance.

Unlike some of its more raucous rivals, the Cayman's unobtrusive exhaust note makes the premium 12-speaker Burmester sound system a worthy add-on. Lastly, if you believe it's necessary to outfit your next sports cars with pricey traction-enhancing gizmos, know that most drivers will run out of nerve long before the Cayman runs out of grip.

The 2014 Porsche Cayman offers a pair of mid-mounted flat-6 "boxer" engines. The base 2.7-liter engine is good for 275 horsepower, while the more powerful 3.4-liter mill of the Cayman S churns out a very respectable 325 horsepower. Both the Cayman and Cayman S direct power to the rear wheels through a 6-speed manual transmission or an available 7-speed dual-clutch automatic. Fuel economy figures are still being calculated by the EPA, but Porsche anticipates a 15-percent bump in efficiency compared to last year's lineup.

2.7-liter flat-6
275 horsepower @ 7,400 rpm
213 lb-ft of torque @ 4,500-6,500 rpm
EPA city/highway fuel economy: 21/30 (manual), NA (automatic)

3.4-liter flat-6
325 horsepower @ 7,400 rpm
273 lb-ft of torque @ 4,500-5,800 rpm
EPA city/highway fuel economy: 20/28 (manual), NA (automatic)
To compare current market prices, check out KBB.com's car classifieds to view the new and used Porsche Cayman vehicles for sale near you.