2007 Porsche Cayman Review
By KBB.com Editors
Introduced as a 2006 model, the Cayman S wasted no time in serving notice of its intentions to rivals such as the Audi TT Quattro Coupe, BMW Z4 M Coupe and Mercedes-Benz SLK 350. For 2007, it's joined by a slightly less potent but still remarkably engaging and considerably more affordable base Cayman. Both offer a close encounter with 911-style driving experiences for thousands of dollars less. While sharing a good deal of basic engineering with Porsche's entry-level Boxster line, the Cayman's more rigid, closed-body structure gives this mid-engine rear-wheel-drive two-seater even better handling and a more graceful appearance. Although a tad pricy, the 245-horsepower Cayman and 295-horsepower Cayman S still deliver a great return on your fun-to-drive investment.
You'll Like This Car If...
If you pine for the dynamic thrill of a 911—and with arguably even more styling flair—the Cayman could be the car of your dreams. The fact that pricing starts $10,000 to $20,000 below the 911 is just icing on the cake.
You May Not Like This Car If...
If being inside a small sport coupe makes you slightly claustrophobic, or you demand good rear sightlines or need large amounts of storage space, the Cayman simply isn't going to cut it in your motoring world.
What's Significant About This Car?
The biggest "new" here is the arrival of a 245-horsepower base Cayman model with a 2.7-liter engine from the Boxster. While slightly less exhilarating than the top-line 295-horsepower Cayman S with its 3.4-liter engine, the base car costs almost $10,000 less. The only change to the line is the addition of a tire pressure monitoring system.
Driving Impressions Even among all the legendary Porsche models, it's hard to recall a car that feels so utterly right under virtually all dynamic conditions. The Cayman's super-stiff structure provides a rock-solid...
suspension platform that allowed chassis engineers to work true handling magic, complementing the excellent Porsche Stability Management system (PSM) with quick, responsive steering and a clutch-and-shifter combo that's near-perfect on both models. While the 245-horsepower base Cayman lacks the sheer acceleration of the pricier 295-horsepower "S" variant, it does offer a somewhat more complaint ride. And with both versions possessing prodigious stopping power and offering optional Porsche Active Suspension Management (PASM) that lets you fine tune the ride characteristics with the touch of a button, either Cayman may prove to be all the Porsche that you'll really want or need.
Mid-Engine Balance
Automotive theory holds that putting a car's engine between the two axles will contribute to superior handling, and the Cayman S is real-world proof. We're hard-pressed to remember a car that feels so "just right," in so many driving situations, as the Cayman S.

Head-turning Style
Porsche has a history of creating memorable automotive statements, but the Cayman's definitive combination of sensual form and delightful details seems destined to ensure it a place in the marque's Hall of Fame.
2007 Porsche Cayman Details
Interior
Plenty of Porsche heritage is evident in the detailing of the Cayman's compact but well-finished and comfortable cabin, starting with the signature dash-mounted ignition to the left of the three-spoke steering wheel and lots of leather and brushed aluminum accent trim. Easy-to-scan gauges—with black faces on the base Cayman and satin-aluminum dials on the Cayman S—well-positioned main controls and supportive bucket seats reinforce the sense of purpose in this domain. However, with stowage space under both the front hood and beneath the rear hatch, the Cayman has a good deal more practicality than might be apparent at first glance. Dismal cupholders aside, the only real shortcoming is that the prominent roof pillars can block sightlines to the sides or rear.
Exterior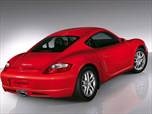 Even at first glance, the Cayman is unmistakably a Porsche, displaying numerous classic styling cues not only from the 911 but from a host of the marque's previous street and competition cars. Easily the most eye-catching touch is its sweeping C-pillar treatment, a flourish that harkens back to the elegant 904 racing coupe. A key visual differentiator between the two models is that the Cayman S wears 18-inch wheels fitted with lower-profile tires than those that wrap the 17-inch rims on a base Cayman. The top-line variant also has a subtle black front spoiler lip, a large single oval exhaust—rather than dual squared-off outlets—and red instead of black brake calipers.
Standard Equipment
Both Cayman and Cayman S are equipped to put the driver's needs first, a fact most directly reflected in the Porsche Stability Management (PSM) system that encompasses traction control, engine throttle control and enhanced functions of the anti-lock vented disc brakes to help keep the car on the path the driver intended. The Cayman mounts Z-rated 205/55 front and 235/50 rear tires on 17-inch alloy wheels, while the Cayman S gets bigger front brakes and steps up to 235/40 front and 265/40 rear rubber on larger 18-inch wheels. As for comfort and convenience touches, both boast a full range of power assists, tilt steering column, air conditioning, AM/FM/CD radio, speed control, remote keyless entry, trip computer and an anti-theft immobilizer. Conventional front and front-side airbags are supplemented by special door-mounted head-protection bags.
Optional Equipment
Nifty upgrades start with the Sport Chrono Package that can keep track of your lap times, intensify throttle response and alter shift mapping of the Tiptronic S transmission—plus further stiffen suspension settings when matched with the optional Porsche Active Suspension Management (PASM). Also available are racing-derived Porsche Ceramic Composite Brakes (PCCB), both manual and full-power sport seats, bi-xenon headlamps and four different kinds of 19-inch alloy wheels. Touring aficionados will appreciate the Porsche Communication Management system that includes available DVD navigation, MP3 playback capability and the 13-speaker BOSE Surround Sound System. In addition to full leather upholstery, automatic climate control and aluminum-look/stainless steel or wood trim kits, there's a near-endless array of factory and dealer accessory items.
The 245-horsepower 2.7-liter "boxer" flat-six engine that sits amidships in the Cayman and the 295-horsepower 3.4-liter six in the Cayman S both benefit from the same VarioCam Plus technology used on the flagship Porsche 911. This system precisely controls intake camshaft timing and valve lift to enhance both total response and fuel efficiency. While the Cayman comes with a five-speed manual transmission and the Cayman S gets a six-speed gearbox (optional in the Cayman), for those who prefer an automatic a five-speed Tiptronic S with steering wheel-mounted shifter buttons is available on both models. Porsche claims a manually-shifted Cayman S can hit 60 miles per hour in 5.1 seconds and a base car needs only 5.8 ticks to reach that benchmark, with their automatic counterparts adding about a second to each of those figures.

2.7-liter Boxer-6
245 horsepower @ 6500 rpm
201 lb.-ft. of torque @ 4600-6000 rpm
EPA city/highway fuel economy: 23/32 (5-speed manual), 22/31 (6-speed manual), 21/28 (automatic)

3.4-liter Boxer-6
295 horsepower @ 6250 rpm
251 lb.-ft. of torque @ 4400-6000 rpm
EPA city/highway fuel economy: 20/28 (manual), 20/27 (automatic)
To compare current market prices, check out KBB.com's car classifieds to view the new and used Porsche Cayman vehicles for sale near you.