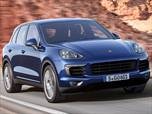 This year sees an upgraded Porsche Cayenne Turbo S with more horsepower, and a new Cayenne GTS, now sporting a turbocharged V6 engine.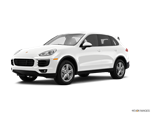 The Cayenne SUV lineup for 2015 is reduced to five trims: Diesel, S, S E-Hybrid, Turbo and Turbo S. All trims get revised suspension tuning, a bump in horsepower and better fuel economy. New options include a 360-degree Surround View camera and heated and cooling rear seats.
About Porsche Cayenne
The 2016 Porsche Cayenne leaves no doubt that anything wearing a Porsche badge lives up to the brand's dominating performance capabilities. After introducing the eco-friendly Cayenne S E-Hybrid plug-in last year, Porsche introduces two new performance versions of the Cayenne. The new Cayenne Turbo S offers up 570 horsepower from its twin-turbo V8, giving it performance well beyond what you'd expect for a vehicle its size and weight. The new Porsche Cayenne GTS uses a new turbocharged V6 engine, but don't worry, it too can keep up with the big boys. Add to the mix tons of luxury features and enviable curbside cachet, and the Porsche Cayenne is easily a match for competitors like the Land Rover Range Rover Sport, BMW X5 and Mercedes M-Class.