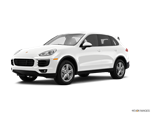 The Cayenne SUV lineup for 2015 is reduced to five trims: Diesel, S, S E-Hybrid, Turbo and Turbo S. All trims get revised suspension tuning, a bump in horsepower and better fuel economy. New options include a 360-degree Surround View camera and heated and cooling rear seats.
Since the high-efficiency diesel variant joined the Cayenne family last year, and the top-of-the-line, 550-horsepower Turbo S went on sale recently, there are no substantive changes for 2014. The Porsche Dynamic Light System Plus becomes an option across the line.
About Porsche Cayenne
Wearing the Porsche badge on its liftgate means the 2015 Cayenne SUV has to live up to the legendary performance expected of every Porsche. With rapid acceleration, impressive steering and braking plus enough luxury to please the most demanding connoisseur, the Cayenne for 2015 is the perfect blend of family wagon and gut-punching performer. Available in a number of trims ranging from quick to potent, the Cayenne can tow up to 7,716 pounds and still leave most sports cars in its dust. The Land Rover Range Rover Sport may be better off road, while the BMW X5 and Mercedes M-Class offer comparable features at a lower price, but none of these competitors has an equal to the new S E-Hybrid, the world's first plug-in luxury hybrid SUV.