2014 Porsche Boxster Review
By KBB.com Editors
KBB Expert Rating: 8.1
Fresh off a revamp, the 2014 Porsche Boxster is an exhilarating mid-engine, rear-drive convertible that nearly captures the sexy 911-style appeal that the Cayman has mastered. This 3rd-generation Boxster is slightly bigger than past models, but is lighter, tighter and more fuel efficient in both base and hopped-up Boxster S forms. Its cabin is quieter, and you can fold its soft top in just nine seconds at speeds up to 31 mph. Though more refined, Porsche's 2-seat roadster still loves to tackle twisty roads. The Boxster doesn't have the folding hardtop of a BMW Z4 or Mercedes-Benz SLK, or the easier-to-digest starting prices of the Audi TT and Nissan 370Z convertibles, but does boast what none of those can touch: the dynamics and prestige of a Porsche.
You'll Like This Car If...
If you're just as enthusiastic about the act of driving a performance roadster as you are about the appeal of driving one, the Porsche Boxster will deliver on both desires.
You May Not Like This Car If...
If you want the security and added comfort of a retractable hardtop, look to the Mercedes SLK or BMW Z4, which come standard with one. The comfort-oriented SLK, along with the Audi TT and Nissan 370Z, also undercut the Boxster's $51,000-plus base price by thousands of dollars.
What's New for 2014
With the Boxster all new for the previous model year, there are no significant changes for 2014.
Driving Impressions With good power always on tap and an architecture that's stiffer yet lighter than previous-generation models, the 2014 Porsche Boxster drives exactly as your imagination would insist a sports car...
should. The Boxster's massive brakes swiftly terminate the commendable velocities enabled by the car's mid-mounted 6-cylinder engine, and its new variable-ratio ratio electric power-steering system is clean and quick, despite what some old-school purists may say. Whether you're trying to capture the flag at a club track or just going to a restaurant on a Friday evening, the Boxster's ride quality shines. And therein lies a big part of the Boxster's brilliance: Its engine, suspension and brakes conduct themselves like members of the finest orchestra. The result is an enthusiast/grand-touring-roadster balanced so well that it must be experienced to be believed.
QUICK FOLDING TOP
Nine seconds. That's all it takes to transform the Boxster from cozy cocoon to alfresco adrenaline machine. There's nothing quite like screaming down a windy road with the wind lapping your skin. We consider such outings downright therapeutic, and reckon engineers of the Boxster's rapid-fold roof do, too.

SPORT CHRONO PACKAGE
Over and above the standard Sport setting, this package for Boxsters equipped with an automatic transmission includes a Sport Plus mode, which can further tighten the Boxster's suspension. This setting also quickens shift times and features launch control for extreme acceleration. Another welcome addition is a classy analog/digital stopwatch in the dash.
2014 Porsche Boxster Details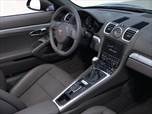 Interior
The 2014 Boxster's cabin is surprisingly quiet with the top up and triumphantly alive with it down. It's also the roomiest ever. The two seats don't so much fit you as they absorb you. All touch points, including the pedals and leather-trimmed steering wheel and shifter, are as purposeful as they are comfortable. This is what a sports car should feel like. In the center dash is a 7-inch color screen that sits above a bevy of buttons, and growing from there is the sleek and also-button-laden transmission tunnel that sits between driver and passenger. It's high-tech and classy, but busy.
Exterior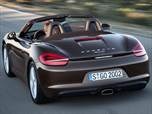 As good as the 2014 Boxster appears in photos, it looks better in person, boasting more angles than a geometry lesson. Not surprisingly, the Boxster is at its best with the top down, but even with the fabric roof in position, this roadster draws attention. Among the Boxster's more prominent features are sculpted side sills that direct air to the engine bay. In front, the Boxster dazzles with jeweled headlights, which come in halogen form on regular models and bi-xenon for S variants. In back is the traditional center-mounted exhaust tailpipe, a single outlet on base models and a pair on the Boxster S.
Standard Equipment
Other than the fact that the base Porsche Boxster sport seats are manually adjustable for height and fore/aft positioning (the seatback recline adjustment is electric) in a world where most luxury makers go all-electric, the 2014 Boxster comes deliciously equipped right out of the box. The power-folding roof features a heated glass window, and the included HomeLink garage door opener means you'll never have to dig for that transponder. The standard 50-watt AM/FM/CD/AUX audio system has four speakers and is controlled via a 7-inch, color touch screen. Base Boxsters come with 18-inch wheels, while S models ride on 19-inch versions.
Optional Equipment
From a torque-vectoring rear differential to ventilated seats and a navigation system, there are myriad ways to make your Boxster quicker, more comfortable, or more technologically advanced. High-end audio systems from Bose and Burmester are available, and an electronic logbook can record every trip for posterity or recordkeeping. We are personal fans of the wood package and matching heated, mahogany steering wheel. The most performance-minded will be interested in the carbon-ceramic brakes, a $7,000-plus feature alone. And there is, of course, that excellent 7-speed automatic transmission. It's officially named Porsche Doppelkupplung, but it's far easier to just say "PDK."
The 2014 Boxster uses a 2.7-liter flat-6 engine that puts out a respectable 265 horsepower and enables the roadster to leap from zero to 60 mph in a scant 5.5 seconds. The Boxster S features a larger and more powerful 3.4-liter flat-6 that produces 315 horsepower and lowers that acceleration benchmark to a rapid 4.8 seconds. This latter powerplant simply doesn't have a weakness and roars like a warhorse. Both engines are mounted midship and power the rear wheels. The standard transmission is a 6-speed manual, with the quicker-shifting and more fuel-efficient 7-speed PDK automatic optional. An auto start/stop function can be used with either transmission, but we found the startups jarring when faced with a row of ill-timed stoplights.


2.7-liter flat-6
265 horsepower @ 6,700 rpm
206 lb-ft of torque @ 4,500-6,500 rpm
EPA city/highway fuel economy: 20/30 mpg (manual), 22/32 mpg (automatic)

3.4-liter flat-6
315 horsepower @ 6,700 rpm
266 lb-ft of torque @ 4,500-5,800 rpm
EPA city/highway fuel economy: 20/28 mpg (manual), 21/30 mpg (automatic)
To compare current market prices, check out KBB.com's car classifieds to view the new and used Porsche Boxster vehicles for sale near you.