For 2013, the all-wheel-drive (AWD) Carrera 4 models (4 and 4S, in both coupe and cabriolet bodies) migrate to the new longer-wheelbase, seventh-generation platform (designated 991) introduced last year on the rear-drive Carrera models. Only the Turbo models remain on the previous (997) architecture.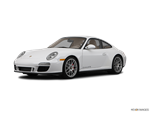 The Carrera Coupe and Cabriolet and Carrera S Coupe and Cabriolet versions of the 2012 Porsche 911 bring forth numerous efficiency-focused technologies: a new electro-mechanical steering system that runs only when power boost is needed, an auto stop/start system that shuts off the engine at stoplights, a "sail" feature that allows the engine to idle when coasting downhill, and the first 7-speed manual transmission used in a passenger car.
About Porsche 911
Few cars wear the mantle of automotive icon as gracefully or as righteously as the Porsche 911 Carrera. The basic Carrera lineup now includes Coupe, Targa and Cabriolet body styles, rear- and all-wheel-drive configurations and standard as well as more powerful and sportier "S" variants. While the Carrera4 all-wheel-drive models add an extra measure of cornering stability and all-season confidence, even the standard Carreras offer dramatic proof that Porsche has overcome virtually every potentially negative characteristic one might ever have associated with a rear-engine vehicle. Dynamically and stylistically, the 911 in any guise maintains an intangible mystique that is not matched by such competitors as BMW 6 Series, Cadillac XLR and Lexus SC 430.