Narrow year range (drag arrows to filter):
See photos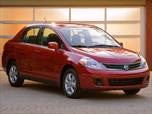 For 2010, the Versa gets a slight freshening, sporting a new grille, new seat fabric, new wheel options and a white illuminated meter cluster. The SL trim gains an iPod interface, Vehicle Dynamic Control (VDC) and traction control, as well as last year's Sport Package as standard equipment. New options for the SL include a cool navigation system retailing for around $600 that includes XM NavTraffic real-time traffic alerts.
About Nissan Versa
Several automakers, including Nissan, foresee a comeback in entry-level compact cars—triggered largely by rising fuel prices. "For the first time in many years," said a Nissan senior marketing manager, many shoppers are "giving serious consideration" to smaller automobiles. These marketing folks detect a "void" in the sub-$14,000 price range, noting that a new generation of young people, known as "echo boomers," will reach driving age soon. Nissan promises class-leading horsepower and torque for its new entrant, the Versa hatchback, along with generous interior space. Billed as a "no-compromises" value-priced offering that reaches beyond basic amenities, the Versa is surprisingly roomy inside. A sedan is due later.