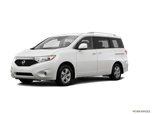 For 2014, the Nissan Quest gains some new color choices but otherwise carries over unchanged.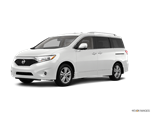 For 2013, the Nissan Quest LE gets standard Around View Monitor (to help spot nearby objects and snug clearances), and the 11-inch-screen DVD entertainment system is now available across the line.
About Nissan Quest
In the world of minivans Nissan's Quest for 2014 takes a pretty convincing stab at pulling off "cool" without sacrificing any of the features that make a minivan so vital to the family. A tall roofline and wraparound glass set the Quest apart, as do an interior and a dashboard that would be equally at home inside any luxury SUV. Gadgets galore and clever features, such as the 1-touch power sliding door and power-return 3rd-row seat, make the Quest even more desirable. Of course, you could pay less and get more horsepower from the Dodge Grand Caravan or the Kia Sedona, but really, what price can you put on being cool?