Narrow year range (drag arrows to filter):
See photos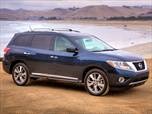 Pretty much everything but the Nissan Pathfinder name is new for 2013. That includes a transverse-mounted 3.5-liter V6, Xtronic continuously variable transmission (CVT), unitized body, front-wheel-drive version, All-Mode 4x4 all-wheel drive system, EZ Flex seating, available panoramic sunroof, and many other new enhancements.

About Nissan Pathfinder
Once known for its rugged body-on-frame design, the 2015 Nissan Pathfinder has morphed into a much more family-friendly crossover SUV, with a roomy, modern interior, good ride and handling characteristics and impressive power. Although still available with all-wheel drive (AWD), the Pathfinder is no longer the choice for those who need to venture off-road or tow heavy loads. It can, however, manage a gaggle of teenaged soccer players and their gear, or double as a light-duty truck for those weekend runs to Home Depot. Up against such heavyweights as the Ford Explorer, Dodge Durango and Toyota Highlander, the Pathfinder holds its own, offering a full complement of technology and creature comforts. The Pathfinder Hybrid doesn't appear to be returning for 2015.