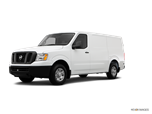 As it was just introduced in 2012, changes are minimal for the 2013 Nissan NV. They include a vinyl wear patch added to the inside bolster of front-row cloth seats, and three new exterior colors.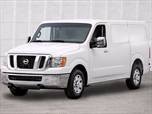 New for 2012 is the NV3500 HD passenger van series. Built from the same platform as the NV cargo van, the passenger version offers configurable seating for 12 with integrated seatbelts, and side-curtain airbag protection for all rows.
About Nissan NV2500 HD Cargo
For 2012, Nissan is jumping into the commercial van market with its full-size "made in America" NV cargo and passenger vans. Until now, customers looking for a full-size work or passenger van could only turn to Ford, Chevy, or Mercedes-Benz. Nissan sensed an opening for an all-new, affordable van designed to accommodate the special needs of customers in a way no previous domestic van can match. Available in cargo van form as the NV1500, 2500 HD and 3500 HD – the latter two offering a towering extended roof option – the NV poses a serious threat to the outdated Ford E-Series and Chevy Express. There is also an NV3500 HD passenger van offering a number of unique features regarding passenger comfort and safety.