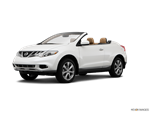 Aside from a CrossCabriolet price reduction, the Murano is basically unchanged for 2014. Muranos with a tinted bronze exterior finish offer a new black interior option, and the CrossCabriolet adds new colors and a new 20-inch aluminum-alloy wheel.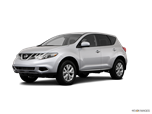 Safety features such as blind-spot warning and Moving Object Detection are optional. An SV Value Package is available and includes Bose audio system, power liftgate, and navigation. SV models now include auto-dimming rearview mirror and HomeLink remote transceiver.
About Nissan Murano
As it did when introduced over a decade ago, the 2014 Nissan Murano SUV offers trend-setting looks and features that others are just beginning to implement. The Murano continues to buck the blocky-SUV style in favor of a rounded, organic shape. As it has from the start, this 5-passenger carryall uses a continuously variable transmission (CVT), a setup that tends to deliver better fuel economy than traditional automatics. Available with front- or all-wheel drive, the Nissan Murano has a strong V6 engine and a driver-oriented suspension that help set it apart from competitors such as the Ford Edge, Hyundai Santa Fe Sport and Chevrolet Equinox. Another Murano distinction is the CrossCabriolet, a 4-passenger convertible that's unique in this class.