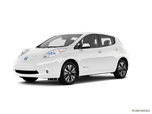 A new, 30-kWh battery is fitted to SV and SL trims, extending the Leaf's range to 107 miles. The low-price S trim retains the smaller battery and 84-mile range but receives a new 5-inch color audio screen with NissanConnect Mobile Apps. NissanConnect and navigation are now standard on SV and SL trims.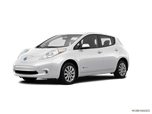 The base model Leaf S now gets the same "B-Mode" as the rest of the lineup, which engages an aggressive regenerative braking mode. Leaf SV models also get new standard 17-inch aluminum-alloy wheels, and Leaf SV and SL models get hands-free text messaging and voice-activated destination entry.
About Nissan LEAF
Nissan's Leaf EV for 2016 stands proudly as the fossil-fuel alternative that doesn't look like it was designed by an old fossil. The Leaf's unique exterior is both artistic and functional, helping it cheat the wind and maximize interior space. Unlike some fancier EVs, Nissan's Leaf has brought electron-inspired propulsion to the masses with an affordable price tag, relaxed driving manners and user-friendly features that can even help drivers find recharging stations. But, while the 5-passenger Leaf may be popular among commuters and environmentalists, its limited range and longer charging times won't soon cause the gasoline or hybrid car to go extinct. However, the Leaf holds an advantage over electrics like the Chevy Spark and Fiat 500e, both in size and nationwide availability.