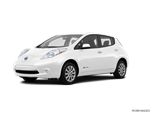 A rearview camera becomes standard across the lineup. Nissan has removed the Long Life Mode, which allowed charging to 80 percent instead of 100. The company says the feature's rationale – the impact on long-term battery durability – was less than initially expected and thus not needed.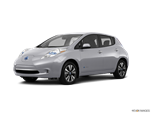 Now in its third year of production, the Nissan Leaf undergoes a significant price reduction along with a number of enhancements for the 2013 model year. Key revisions to the lineup include a new entry-level "S" trim, a newly available onboard 220-volt charger that reduces charging time to roughly four hours, and improved energy efficiency thanks to refined aerodynamics, additional regenerative breaking capabilities, and better energy management.
About Nissan LEAF
Think of an electric car and the Nissan Leaf will likely come to mind. Now in its fourth model year, the Leaf made the electric vehicle (EV) mainstream thanks to its digestible price, easy driving manners and overall user-friendliness. If not for its near-silent operation or the fact it never needs gasoline, you might think the Leaf were any other 5-passenger compact hatchback. The battery-powered Leaf has consequently found a place among commuters and the eco-conscious alike, but it's not for everyone. Primarily, the Leaf's sub-100 mile range and hours-long recharge time remain hurdles. But for buyers ready for an EV, the 2014 Nissan Leaf trumps others such as the Chevrolet Spark EV and Fiat 500e in both size and its nationwide availability.