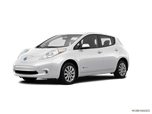 The base model Leaf S now gets the same "B-Mode" as the rest of the lineup, which engages an aggressive regenerative braking mode. Leaf SV models also get new standard 17-inch aluminum-alloy wheels, and Leaf SV and SL models get hands-free text messaging and voice-activated destination entry.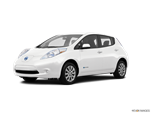 A rearview camera becomes standard across the lineup. Nissan has removed the Long Life Mode, which allowed charging to 80 percent instead of 100. The company says the feature's rationale – the impact on long-term battery durability – was less than initially expected and thus not needed.
About Nissan LEAF
The 2015 Nissan Leaf's rounded hatchback shape is on its way to becoming just as iconic for electric cars as the Toyota Prius is for hybrids. And why not? The Leaf made the electric vehicle (EV) mainstream thanks to its affordable price, easy driving manners and user-friendliness. Roomy and comfortable, it could be any other 5-passenger hatchback, except it doesn't require gasoline, and it's nearly silent on the road. Popular among commuters and the eco-conscious, the Leaf still isn't for everyone. Long charge times mean you have to wait for a while to get going again, and if you're getting 100 miles out of a charge, you're darn lucky. Nevertheless, the Leaf trumps others such as the Chevrolet Spark EV and Fiat 500e in both size and nationwide availability.