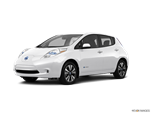 Now in its third year of production, the Nissan Leaf undergoes a significant price reduction along with a number of enhancements for the 2013 model year. Key revisions to the lineup include a new entry-level "S" trim, a newly available onboard 220-volt charger that reduces charging time to roughly four hours, and improved energy efficiency thanks to refined aerodynamics, additional regenerative breaking capabilities, and better energy management.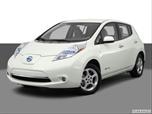 The 2012 Nissan LEAF gains heated front and rear seats, a heated steering wheel, battery heater, heated outside mirrors and rear-seat HVAC ducts. The SL trim receives a Quick Charge Port.

About Nissan LEAF
The first pure electric-powered vehicle introduced by a major automaker, the 2011 Nissan LEAF heralds the dawn of a new era of ultra-clean motoring. Although distribution will be geographically limited and its numbers will be supply-constrained to only 20,000 units during the initial year of sales, all of those units have already been spoken for by eco-minded buyers and Nissan is gearing up its Smyrna, Tennessee, assembly plant to produce 50,000 of these five-passenger mid-size hatchback sedans here annually starting in 2012. With a 100-mile nominal range, driving characteristics that effectively mirror conventionally-powered cars and a surprisingly affordable price tag made even more attractive by various incentives, the LEAF is a legitimate and very real alternative choice, particularly for those considering its primary rival, the Extended-Range Electric Vehicle (E-REV) 2011 Chevrolet Volt.