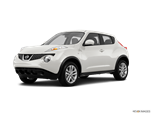 A rearview monitor (SV trims) and revised Rockford Fosgate Ecopunch audio system (SV and SL) are added to the 2013 Nissan Juke's Navigation Package.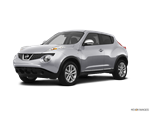 Fresh from its debut last year, Nissan has made no changes to the 2012 Juke crossover.
About Nissan JUKE
Intent on expanding its presence in the increasingly popular compact crossover market with a vehicle that stands out from an admittedly formidable pack, Nissan created the new 2011 Juke. While over-the-top exterior styling is the most blatant tipoff to its unconventional approach, this versatile five-door hauler also packs a potent turbocharged engine and enthusiast-oriented suspension that are impressively complemented by a megaload of primo features. As its final ace in the hole, Nissan's bold attempt to win the hearts – and wallets – of young and primarily male active lifestylers, opens at a sub-$20,000 price point. In the case of the entry-level front-drive Juke S, that figure includes a standard Continuously Variable Transmission (CVT). Even the range-topping leather-lined and fully loaded all-wheel-drive Juke SL barely cracks the $25K mark.