Other than a new color (Caspian Blue), there are no major changes to the 2014 Nissan Cube.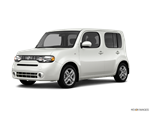 Only minor changes are in store for the 2013 Nissan Cube, including Sapphire Slate exterior color replacing Golden Ginger and the addition of "PUREDRIVE" badging on all models that signifies Nissan's wider efforts to improve fuel efficiency. The 1.8 base grade is no longer available, and neither is the Cargo Version Package. Also waving goodbye is the Indigo Limited Edition model.

About Nissan cube
Although the EPA classifies it as a compact, we're not so sure the 2014 Nissan Cube is so easily pigeonholed. Its boxy shape and versatile interior mimic a small SUV, while its low ground clearance and car-like driving experience tell us the Cube is more like a mini station wagon. One thing is for sure, the Cube's radical styling puts it in a class all its own. From its asymmetrical rear window to its swing-open rear door, the Cube aches to be different. Buyers young and old will love the Cube's sub-$20K starting price, its long list of cool features, and its numerous accessories.