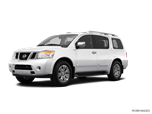 The 2015 Nissan Armada is virtually unchanged this year. There are a few minor trim changes inside, and SL and Platinum models get new 20-inch wheels.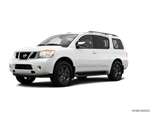 With a major makeover on the near horizon, the Nissan Armada rolls into 2014 unchanged, but with substantial price reductions across the board.
About Nissan Armada
The 2015 Nissan Armada full-size SUV is a throwback to the mid-2000s, literally, as it hasn't changed very much since its introduction 11 years ago. Compared to the Chevrolet Tahoe, Ford Expedition and Toyota Sequoia, the Nissan Armada feels dated and lags in fuel economy. However, it's still a roomy and comfortable driving experience. There's seating for eight passengers, and the third row is reasonably comfortable for adults. There's plenty of power from the big V8 engine, and the Armada can tow up to 9,000 pounds. A power-folding third row makes it easy to exploit the massive cargo hold, and of course there's 4-wheel drive (4WD) available for bad weather and muddy roads.