Narrow year range (drag arrows to filter):
See photos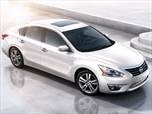 Nearly everything but the engines is either all or substantially new, beginning with the Altima's "class-above" looks, inside and out, and extending to a raft of new features, some class-exclusive. The CVT automatic transmission, thoroughly revamped for pleaseability and efficiency, accounts for much of its class-leading fuel economy.
About Nissan Altima
Being one of the best-selling vehicles in one of the best-selling segments – midsize sedans – can be a double-edged sword. It's great to be a leader, but the pressure is always on to outdo your rivals. Amid this scenario, the 2016 Nissan Altima continues to command respect for its comfort, spaciousness and efficiency. Thanks to a significant update inside and out, the latest Altima remains competitive with stalwarts such as the Honda Accord and Toyota Camry, as well as ever-better players like the Hyundai Sonata and Kia Optima. The new, sportier Altima SR trim that is available with both 4- or 6-cylinder variants should also help Nissan's midsize sedan by widening its appeal.