Narrow year range (drag arrows to filter):
See photos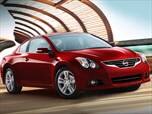 Nearly everything but the engines is either all or substantially new, beginning with the Altima's "class-above" looks, inside and out, and extending to a raft of new features, some class-exclusive. The CVT automatic transmission, thoroughly revamped for pleaseability and efficiency, accounts for much of its class-leading fuel economy.
About Nissan Altima
The Altima has become a real bread-and-butter vehicle for Nissan so, when product planners looked for ways to expand the model line-up, they looked to the popular sedan for inspiration. With the hood the only shared body panel, the affordable Altima Coupe manages to look unmistakably Altima from the front and yet undeniably sporty-two-door from the back, thanks to a distinctive angular rear design that some will certainly love—and may be a deal breaker for others. Offering more horsepower and torque than the Toyota Solara and Honda Accord Coupe, the Altima Coupe definitely has a leg up on its competition but may find a new challenger in the redesigned Accord Coupe.