Narrow year range (drag arrows to filter):
See photos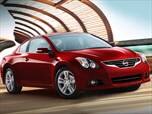 Nearly everything but the engines is either all or substantially new, beginning with the Altima's "class-above" looks, inside and out, and extending to a raft of new features, some class-exclusive. The CVT automatic transmission, thoroughly revamped for pleaseability and efficiency, accounts for much of its class-leading fuel economy.
About Nissan Altima
Unsatisfied with the Altima's runner-up status, Nissan reaches for leadership in America's toughest car segment with a choice of fuel-efficient 4-cylinder or V6 power, the industry's best continuously variable transmission (CVT), handsome styling, sporting dynamics, and a suite of available features competitive with anyone. It follows Toyota's revamped 2013 Camry, Chevy's all-new Malibu and VW's Americanized Passat to market but precedes Honda's 2013 Accord and Ford's new Fusion by a few months. Its mission is simply to beat all of them to take over leadership in this very tough field, and we think it just could.