2015 Best Resale Value Awards: Plug-In Vehicle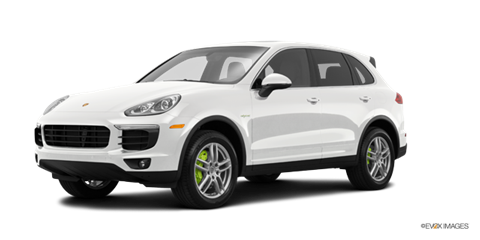 What do you get when you blend Porsche's enviable reputation for build quality into an eco-focused SUV? The best resale value among alternative energy vehicles. And before you go thinking the Porsche Cayenne S E-Hybrid is simply another hippie-dippy spinoff, just know it's still capable of throwing down a 0-60 time of 5.4 seconds along with a top speed of 151 mph.
As a high-end luxury SUV, the Cayenne S E-Hybrid can be fitted with some of the most sophisticated equipment in the industry while delivering exceptional off-road performance and posh accommodations for up to five passengers. The Cayenne also goes above and beyond the call of duty with a max towing capacity of more than 7,700 lbs.
Of course, the Cayenne S E-Hybrid's raison d'être is its plug-in hybrid powertrain. A supercharged 3.0-liter V6 joins forces with a 70 kW AC electric motor to produce 416 net system horsepower. Following a 3-hour charge on a 220V level II charger, the 2015 Cayenne S E-Hybrid can travel up to 14 miles on electricity alone before depleting its lithium-ion battery, after which time the gasoline engine kicks in to deliver an additional 480 miles of driving range. Better yet, Porsche's electrified sport-ute is ready for whatever Mother Nature dishes out thanks to standard all-wheel drive.
Although it carries a starting price of just over $77,000, the Cayenne S E-Hybrid qualifies for up to $5,300 in federal tax credits along with applicable state and local rebates, depending on where you live.
Get to know this car
Resale Value
at 36 months: 55.0%
at 60 months: 35.0%
Ratings & Reviews
Consumer Rating
8.8
Out of 10
Expert Rating
7.9
Out of 10
---

Resale Value
at 36 months: 51.0%
at 60 months: 29.0%
---

The Ford Fusion Energi proves that good looks and green mobility need not be mutually exclusive.
Resale Value
at 36 months: 44.0%
at 60 months: 27.5%
---
Other Category Winners
---
Free Dealer Price Quote
Get the best price and be more prepared with your free, no-obligation price quote