2015 Best Resale Value Awards: Minivan/Van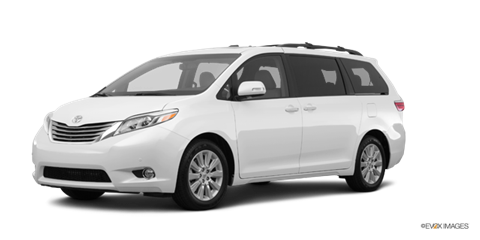 The Toyota Sienna didn't need a refreshed exterior and redesigned interior to repeat its best resale value win from last year, but it certainly didn't hurt. After all, the Sienna is one of the leaders of the segment, available with all-wheel drive, a solid reputation for reliability, tons of cargo space, and flexible seating options for up to 8 passengers.
Under the 2015 Toyota Sienna's hood is the same 3.5-liter V6 engine and 6-speed automatic transmission that have been there since the current generation debuted a few years ago. One ace up the Sienna's sleeve is its available all-wheel drive, making it the only minivan available in the U.S. with the feature. Fuel economy is solid, with 25 mpg possible on the highway, although all-wheel-drive models slip to 23 mpg.
While the Sienna's exterior gets a few nips and tucks to the front and rear, the biggest differences are found inside. An all-new dash incorporates Toyota's latest touchscreen technology, and there's a definite uptick in overall quality of materials and assembly. There's seating for up to eight, depending on which model you select, and plenty of family-friendly options, like a wide-screen rear seat entertainment system that's capable of playing two movies at once.
Prices for the 2015 Toyota Sienna range from about $29,500 for a base L model, all the way up to nearly $47,000 for a Limited Premium all-wheel-drive model. However, there are plenty of other options between these two extremes, and whatever you pay, it's good to know your van's value will hold over the long haul.
Get to know this car
Resale Value
at 36 months: 57.9%
at 60 months: 44.3%
Ratings & Reviews
Consumer Rating
8.5
Out of 10
Expert Rating
7.8
Out of 10
---

Replacing the ancient Ford E-Series vans (aka Econoline), the Ford Transit offers high resale values, making it a good investment for businesses looking to upgrade their fleets.
Resale Value
at 36 months: 51.6%
at 60 months: 39.1%
---

Although it's edged out by its Toyota competitor, the Honda Odyssey offers 8-passenger seating, numerous creature comforts, and best-in-class V6 fuel economy.
Resale Value
at 36 months: 52.8%
at 60 months: 37.6%
---
Other Category Winners
---
Free Dealer Price Quote
Get the best price and be more prepared with your free, no-obligation price quote